Peugeot Maker PSA Agrees to Buy GM's European Brands in $2.3 Billion Deal
---
PSA Group is betting that size is the answer in Europe's saturated car market as it buys General Motors Co.'s ailing regional division despite years of losses.
The maker of Peugeot and Citroen cars will pay 1.8 billion euros ($1.9 billion) for GM's Opel unit and its U.K. sister brand Vauxhall, as the French manufacturer bolsters its defenses in a peaking market that's being transformed by technology, new competitors and Brexit. GM, which is taking a charge of between $4 billion and $4.5 billion, will retain a toehold in the area by continuing to sell Chevrolets in small volumes.
"It gives us the opportunity to become a real European champion," PSA Chief Executive Officer Carlos Tavares said Monday after announcing the deal, which will reinstate the French company as the region's second-biggest auto manufacturer. "Our plan is to build a common future for Opel and Vauxhall and fix the existing issues."
Picking up GM's 1.2 million annual deliveries allows PSA to solidify a turnaround following its 2014 bailout, by spreading the costs for developing new vehicles across a larger network while achieving the savings necessary to compete amid Europe's high wages and wafer-thin profit margins. Gaining scale is vital for mass carmakers as they try to stay ahead of self-driving and electric-vehicle innovations and compete with new entrants including Uber Technologies Inc.
GM, which has owned Opel for almost 90 years, is cutting ties after the division missed a target to break even in 2016, contributing to losses that have totaled about $9 billion since 2009. In addition to the charge, GM is on the hook for much of Opel's pension obligations and will pay PSA 3 billion euros to settle some retirement plans. Still, the deal will free up about $2 billion in cash, which GM plans to use for share buybacks.
PSA shares rose 2.7 percent to 19.58 euros at the close in Paris, the highest price since July 2011.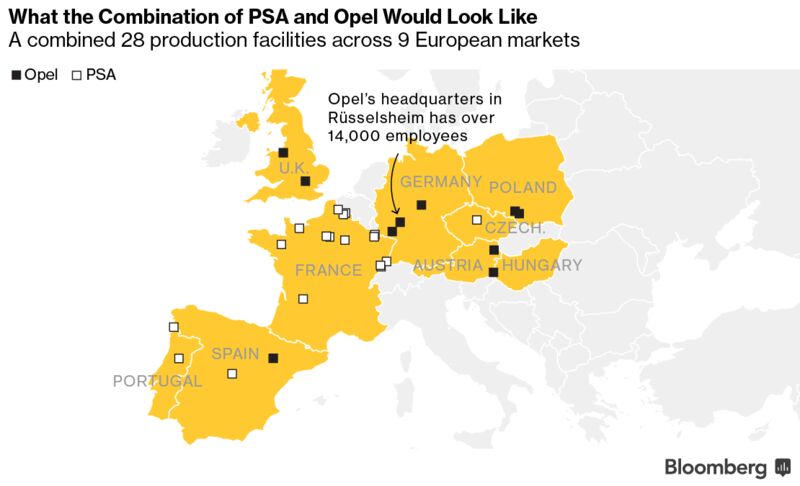 While job and production cuts are likely as the two companies offer a similar slate of mass-market cars from high-cost locations in Germany, France and the U.K., Tavares vowed to honor existing labor agreements and said that closing factories is a "simplistic" solution.
"We don't need to shut down plants," he said, echoing promises made repeatedly in recent weeks as PSA executives toured Europe to win support for the deal from workers and politicians.
Bringing the two automakers together will yield annual savings of 1.7 billion euros by 2026 by combining development costs, factory investments and purchasing. That will help Opel generate an operating profit margin of 2 percent of revenue by 2020 and 6 percent by 2026.
Implementing the savings measures will cost about 1.6 billion euros. Initially the deal will be a drag, with PSA's profit margin from automaking likely to drop to 3.8 percent from 6 percent, according to an estimate from UBS Group AG.
"This move, on paper, is a good deal for PSA," in part because it gives the French carmaker access to GM's expertise on electrification and fuel cell technologies, Bryan Garnier & Co. analyst Xavier Caroen wrote in a note to clients. However, "implementing synergies will take time, diluting group's PSA margin on the short term, while risk of further cannibalization between brands could occur."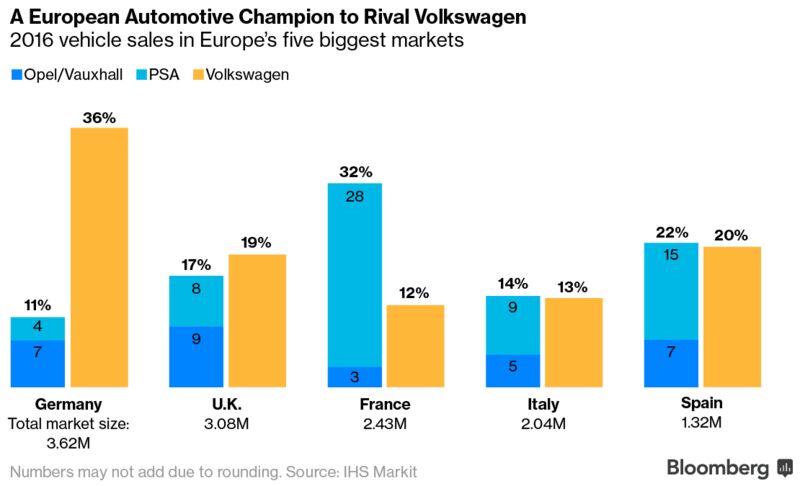 Tavares's focus on growth comes after a bailout three years ago by the French state and Dongfeng Motor Corp. and a painful restructuring that included freezing pay, weeding out unprofitable models and shutting a plant. PSA went from net losses starting in 2012 to profit in 2015, and generated 2.7 billion euros in cash in 2016. This year, for the first time since 2011, the company will pay a dividend.
The deal propels PSA to second place in Europe with a 16 percent market share, behind only Volkswagen AG's 24 percent and pushing it past Renault SA following a steady decline in recent years.
The transaction, with a total value of 2.2 billion euros, includes GM's European auto brands and a stake in its local financing business. PSA will pay 1.13 billion euros in cash and 650 million euros of warrants that will be issued to the U.S. carmaker. PSA is acquiring the financing division in a joint venture with BNP Paribas, which accounts for the remaining 460 million euros.
Fuente: Bloomberg