Musk's Own Borrowing Up as Banks Underwrite More Tesla Debt
---
CEO's loans climb to $624 million from Morgan Stanley, others

Exec to purchase Tesla shares as part of latest share offering

As Tesla Inc. embarks on another effort to raise money, Chairman Elon Musk is also adding to his personal debts.
Tesla disclosed Wednesday as part of its stock and debt offering that Musk increased his own borrowing by more than $100 million, to $624 million. Morgan Stanley, the automaker's longtime banker, is among the financial institutions that have lent Musk money, secured by Tesla shares.
The enigmatic Tesla chief executive officer has never accepted his nominal salary from the company and much of his wealth is tied up in stock. His borrowings fund an executive lifestyle and let him buy more Tesla shares, which gives him an incentive to perform well as CEO but also could put the company's stock price at risk.
If Tesla shares were to fall in value, Musk's lenders could force him to put up more collateral or sell the stock. That could put downward pressure on the price, according to Tesla's prospectus.
Musk has been borrowing from Tesla's underwriters for years, especially Goldman Sachs Group Inc. and Morgan Stanley. Both banks have been lead underwriters on most of the company's stock and convertible debt offerings. They're playing roles in Tesla seeking to raise $1.15 billion through an offering expected to price on Thursday after the market close.
The CEO's borrowing "has been the case for a while and I don't think impacts investor sentiment for now," Cowen & Co. analyst Jeffrey Osborne wrote in an email. The loans are "certainly something for people to continue to monitor."
Tesla shares rose 2.3 percent to $261.50 as of 9:50 a.m. in New York.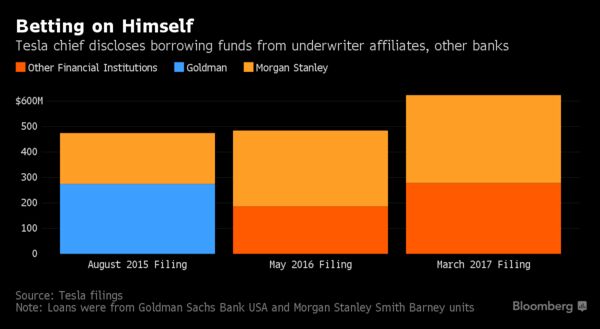 In addition to being Musk's largest lender, Morgan Stanley is Tesla's eighth-largest shareholder, with a 2.4 percent stake. Its Tesla analyst, Adam Jonas, is one of the more bullish researchers of the stock, with a $305 price target.
A Tesla spokesman declined to comment.
Musk no longer owes Goldman any money but has a balance of $344.4 million to Morgan Stanley Smith Barney LLC, according to the prospectus. He has also borrowed $279.9 million from financial institutions that aren't involved in the offering. Those loans are secured by a portion of Tesla stock. As of last May, Musk owed $299 million to Morgan Stanley and $187 million to other lenders.
It's not uncommon for banks to loan money to the top executives of startups. Underwriters want to keep valued founders and executives on board, and the companies often can't afford the lavish salaries paid by established corporations.
In Musk's case, the loans are a relatively small amount of his personal wealth. His 21 percent stake in Tesla alone is worth $8.6 billion, and he's never sold shares. In fact, Tesla said in its prospectus Wednesday that Musk plans to buy another $25 million worth of stock.

Fuente: Bloomberg