The New RWD Huracán Is Everything a Lamborghini Should Be
---
A week with the unapologetic, unpredictable LP 580-2 Spyder.

The 2017 Lamborghini Huracán Rear-Wheel-Drive Spyder and its predecessor, an all-wheel-drive version, are virtually identical. Aside from a subtle widening of the front air intakes and specially contoured aluminum brakes to increase downforce, you'd be hard-pressed to pick the new one out in a lineup.
Which raises the question: Why spend $20,000 more on the RWD version, especially since it's more squirrely to drive?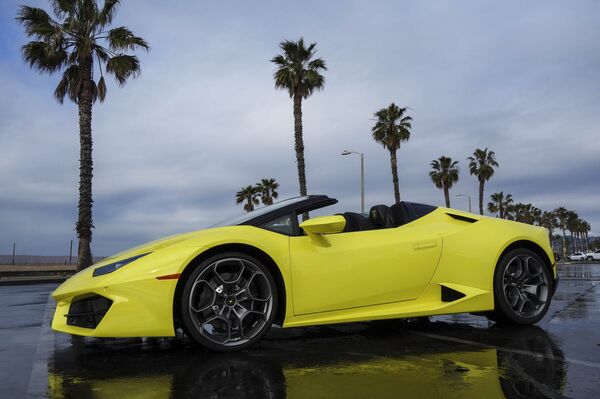 My answer: exactly.
If you're in the market for a Lamborghini, you're in the market for some for something that feels radical when you drive it—far different from any other car on the market today. And probably you're keen to signal just how little the extra expense impacts your bank account.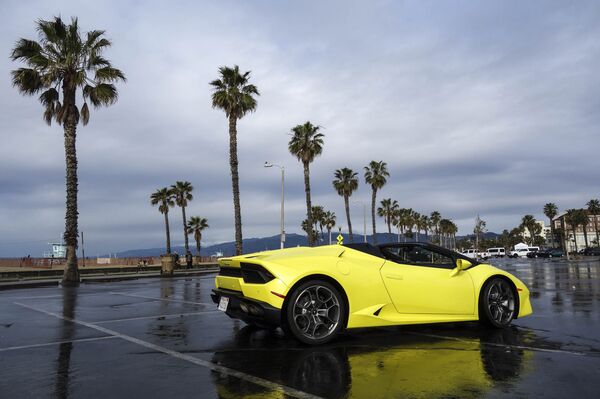 The 2017 Lamborghini Huracán RWD Spyder (aka Huracán LP 580-2 Spyder) embodies what a modern Lamborghini is and should be—visually arresting, massively powerful, a little dangerous, and uniquely exhilarating to drive. Without apologizing for any of it.
True Novelty
The closest competitors to the Huracán RWD Spyder are the Ferrari 488 GTB and the McLaren 675LT. They both use rear wheel drive, cost well over $200,000 and look unmistakable. When you see a McLaren or a Ferrari, you know it.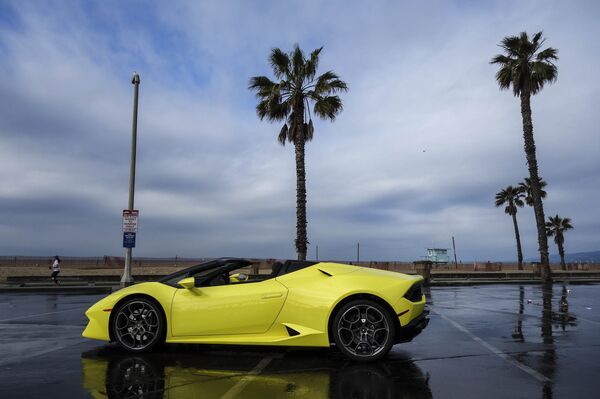 The Huracán RWD Spyder looks far odder on the road, with its pressed-flat roofline, chiseled rear haunches, and gaping air vents. When you drive it, you'll get far more love and hate than if you drive the McLaren or the Ferrari. (I should know. I've driven—and been cat-called, jeered, cheered, and judged in—all three.)
Visually, it's truly a novelty, especially if you buy the convertible version, rather than the Huracán coupe. It completes the whole unapologetically brash, top-dog image one wants when buying into this brand.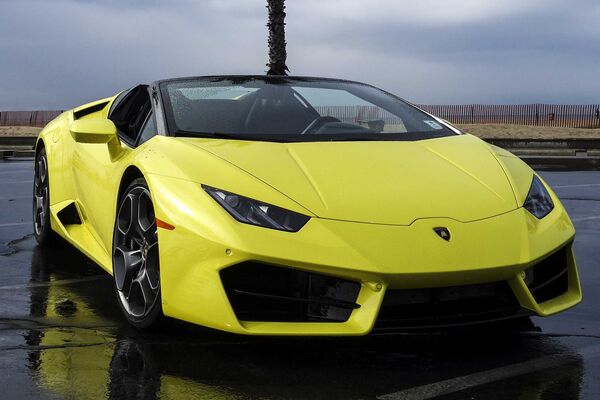 The thick rag top deploys in 17 seconds, even with the car moving up to 31 miles per hour. How better to hear that agitated 580-horsepower, V10 engine and make sure everyone knows you're the driver lucky (and ballsy) enough to be behind the wheel? This is pure Lamborghini braggadocio on a level you don't get with a hardtop car.
(A word to the wise: You must embrace that braggadocio to drive a Lamborghini, but do pare down your own look before getting behind the wheel. This whip is crazy enough without a loud wardrobe making you look ridiculous.)
How It Drives
A similar unhinged element lurks under the hood. Where most luxury cars are exercises in personal style, rather than feeling fundamentally unique when you drive them, this Lambo drives as if it came from a different universe.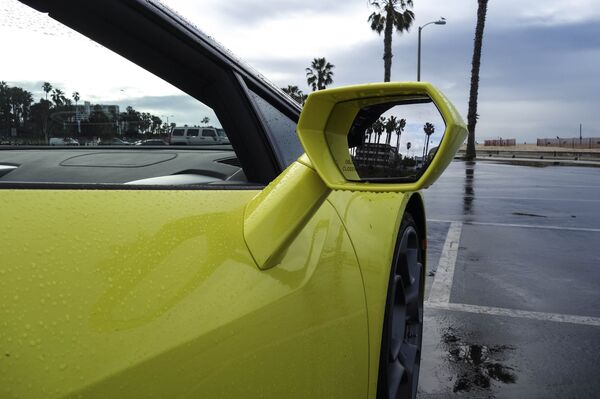 If driving the McLaren is precise like brain surgery, and driving the Ferrari is beautiful like an opera, driving the Lamborghini is like joining the cast of Fast and the Furious. It's unpredictable and opinionated. It'll fishtail and get away from you on the back-end if you don't pay attention. Credit the unnerving combination of Lamborghini's seven-speed, dual-clutch, double-wishbone, aluminum double-wishbone suspension and super-stiff, carbon-fiber, hybrid chassis—finally let fully off-leash with that new rear wheel drive.
It's on a whole other level than the standard offerings from Mercedes and BMW and Audi, but it's also wildly different in feel from Ferrari and McLaren, too.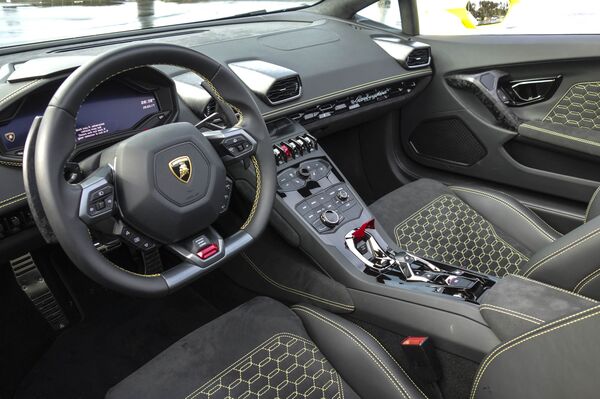 There are three drive modes: Corsa for racing, Strada for city driving and maximum grip, amd Sport for a delicious oversteer attainable with just a twitch of the wheel and gas pedal. In addition, Adaptive Network Intelligent Management technology adjusts the vehicle's behavior based on the driving style of the person inside. There's also electronic stability control and optional Lamborghini Dynamic Steering that varies the steering ratio to maintain the ideal steering response in all road conditions.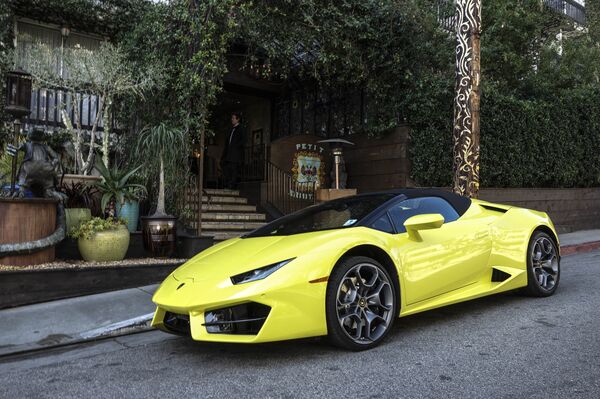 These things allow this Lamborghini to excel at high speeds. Zero-62mph takes 3.6 seconds, and top speed is 199mph.
They also help achieve a more elusive standard for supercars: being tolerable to drive under low speeds. It's one thing to be able to get a bunch of power and thrust calibrated for insane acceleration. Plenty of cars and motorcycles, for that matter, don't come alive properly until they pass a certain threshold. They're meant to live at that speed. But that engineering also makes the cars beastly to drive under more mundane conditions.
I drove the Huracán RWD Spyder for a week in Los Angeles (which means a lifetime in traffic). I took it to Santa Monica and Venice and West Hollywood and Topanga Canyon and Silver Lake. Yes, the pitiful side and rear visibility and the (lack of) clearance, even with the button that lifts the front up an inch, are enough to cause an ulcer. But the car doesn't get heated and rumbly sitting in gridlocked traffic, as the Aventador does. The steering is so light you can do it with a finger, and the turning radius is an indecisive driver's dream. These small benefits mean the RWD Spyder is infinitely more livable on a daily basis than its more aggressive brother.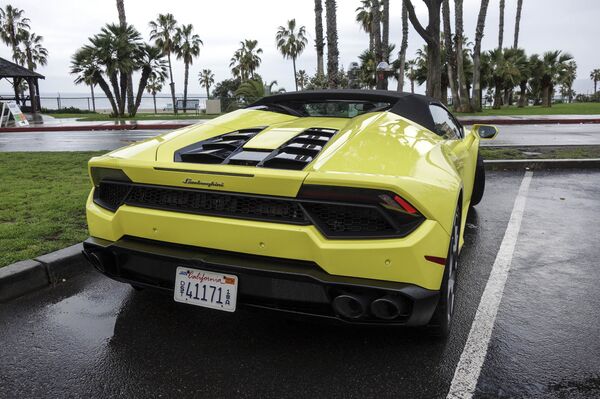 The car also uses a system that will deactivate cylinders on that normally aspirated, dry-sump V10 engine, cutting ignition to one five-cylinder bank when full strength isn't needed. That helps achieve a combined 19-miles-per-gallon efficiency, which beats the Huracán coupe (17 mpg) and Aventador Roadster (12 mpg). No one buys a Lamborghini to save gas—but if you're buying one anyway, this is the one that'll require fewer pit stops.
You've got better things to do.