RV Makers Go Small
---
From titan to twee, a move away from giant motor homes is paying off for Winnebago and other manufacturers.

The hot brands of the millennial moment—you can tick them off: Adidas. Snapchat. Winnebago.
Yes, Winnebago Industries Inc. Sure, most of the youngs don't have $468,000 to drop on a rolling condominium with quartz countertops and heated floors. But like many seniors living the ride-or-die life, they do like to drive into the desert and get weird now and then.
So Winnebago, along with its competitors in the recreational vehicle industry, has finally stopped trying to upsell a huge swath of potential customers who may have a stigmatized view of massive motor homes. Late last year, the company bought Grand Design RV, which makes a line of towable rigs, more efficient and affordable than RVs with a cab and an engine 1 . The brand complements a growing line of minimalist products at Winnebago, including the Minnie, the Micro Minnie, and the (frankly adorable) Winnie Drop.
The company on Wednesday posted a surge of 64 percent in its fiscal second-quarter sales to $370.5 million, almost half of which came from towable rigs, while revenue from motorized products declined slightly. Winnebago's profit margin has widened by two percentage points, thanks to the Grand Design purchase. "We couldn't be more excited about the strategic financial and cultural impact this acquisition will bring to Winnebago," CEO Michael Happe told analysts this morning.
Winnebago isn't the only manufacturer to realize that small is plenty beautiful. The RV industry just had its best year in four decades, thanks largely to a glut of trimmed-down rigs, like Winnebago's Winnie and the kitschy Basecamp from Airstream Inc., which is  now owned by RV giant Thor Industries Inc. Also helping to drive business: a low unemployment rate, low gas prices, and cheap financing.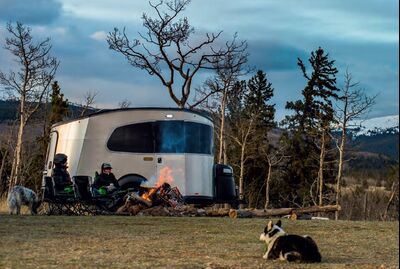 If you can't picture yourself watching a sundown beside a Happier Camper, either your soul is dead or you've been to Burning Man one time too many. Perhaps you have your eye on the A-frame-esque Aliner Scout or you're holding out for Airstream's Nest Caravan, which, coming later this year, will be a lightweight fiberglass version of the company's famous shiny, riveted shell. The true Spartans are bolting $5,000 carbon-fiber tents to the roof of their car. It's just like camping, without the snakes.
Shipments of towable recreational vehicles have increased by one-third in the past three years, according to the Recreational Vehicle Industry Association. They now make up 87 percent of the RV market.
This pint-size RV trend coincides with the tiny-house movement and a crowd of digital nomads adopting the #vanlife. More important, RV makers are downsizing to towables after a boom in sales of big trucks and SUVs. In the past five years, Americans have purchased 11.7 million new pickup trucks and 3.3 million large SUVs like the Cadillac Escalade and Dodge Durango.
Think about that for a minute. Roughly 7 percent of U.S. drivers  are rolling around in a fairly new truck, and the vast majority of these people aren't transporting space shuttles or schlepping building materials.
They just need something to tow.
Fuente: Bloomberg