Ford CEO's Pay Rises 19% to $22 Million
---
As Fields warned profit would dip, stock slumped 14% in 2016

Automaker has flagged costs to develop self-driving cars, EV
Ford Motor Co. Chief Executive Officer Mark Fields's compensation jumped 19 percent last year as heavy spending to develop self-driving cars and electric vehicles weighs on profits.
Fields received $18.8 million in salary, bonus and stock, Dearborn, Michigan-based Ford said Friday in a regulatory filing. Including the value of his pension and other compensation, the total was $22.1 million, compared with $18.6 million in 2015.
"All these investments in electrification and mobility are going to be a drag on earnings for quite a while and that is holding the stock back," said David Whiston, a Morningstar Inc. analyst. "But as a shareholder, you have to understand you're paying Mark for the future. You're paying him to get the mobility business up and running."
Top executives reached 76 percent of the targets set for them by the Ford's board, according to the proxy. While management exceeded goals for automotive operating margin and cash flow, they achieved just 8 percent of their target for automotive revenue and also fell short on Ford Credit pretax profit and quality.
Since Fields became CEO on July 1, 2014, Ford shares have fallen 32 percent through Thursday's close, as the Standard & Poor's 500 Index rose 20 percent. The stock slipped 0.5 percent to $11.62 as of 11:34 a.m. Friday in New York trading.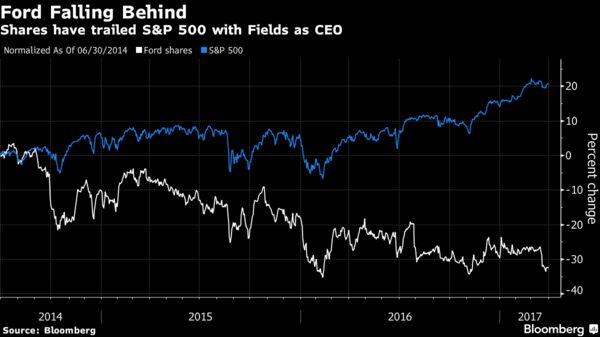 Thanks to strong sales of sport utility vehicles and pickups, Ford posted pretax earnings of $10.4 billion last year. That was the second-best result in company history, though down $400 million from 2015.
Ford said last week that pretax earnings will fall 13 percent this year to $9 billion, due in part to $295 million in recall costs during the first quarter.
"They have good numbers, a good balance sheet and a good cash position," said Whiston, who rates Ford shares a hold. "But I tell investors there's not a lot of reason to get overly excited this year for a meaningful rise" in the stock price.
Fields was among the first auto executives to warn last year that U.S. sales had peaked and would begin a gradual descent after seven years of gains. Industrywide deliveries dropped 1.4 percent to 2.48 million cars and light trucks during the first two months of this year, according to researcher Autodata Corp.
Sales Candor
"I appreciate their candor, even if I don't really like what they're saying," Whiston said. "At least they're not over promising and under delivering, which would be even worse for the stock."
Executive Chairman Bill Ford received total compensation of $13.9 million for 2016, about 8 percent more than a year earlier. Excluding pension values and other compensation, pay for the 59-year-old great-grandson of founder Henry Ford rose 10 percent to $11.1 million.
For the second consecutive year, Ford didn't grant stock options, following a trend among its key competitors and other companies of instead awarding some compensation in restricted shares. One quarter of the stock awards to Ford's top executives came in restricted shares that pay out over three years.
Ford scheduled its annual meeting for May 11 and it will be conducted online. Shareholders for the 13th consecutive year will consider a proposal to strip the Ford family of its 40 percent voting control and move to one vote per share. The measure is opposed by Ford's board, which includes two family members, Bill Ford and his cousin Edsel Ford II.

Fuente: Bloomberg