The Cost of a Tesla Is About to Rocket in Hong Kong
---
Calvin Zhang was getting tired of his Maserati. The Italian sports car spent too much time with the mechanic and guzzled too much gasoline.
That bothered the Hong Kong investment banker, who's also a trustee for the local World Wide Fund for Nature branch. So he replaced his Maserati with a Tesla Inc. Model S, capitalizing on a law exempting electric vehicles from a tax on the purchase price that can reach 115 percent.
Now Zhang, 45, is so hooked on the Tesla he doesn't pay attention to the rest of his luxury fleet.
"It's just a fun car to drive," he said. "I rarely drive my Aston Martin."
The loophole encouraged wealthy drivers to make Hong Kong one of Tesla's top markets. The city accounted for about 6 percent of global sales of Model S sedans, according to Bloomberg Intelligence. Tesla Chairman and Chief Executive Officer Elon Musk last year called Hong Kong a beacon for electric vehicles.
That light now is in jeopardy of being extinguished. Hong Kong will start levying the new-car tax on private electric vehicles starting April 1 in an effort to reduce traffic congestion.
That will raise the price of electric cars by at least 50 percent, said Mark Webb-Johnson, a Tesla owner and chairman of Charged Hong Kong, a group supporting the adoption of plug-in electric vehicles.
QuickTakeElon Musk
The Model S sticker price starts at HK$570,500 ($73,400), according to the Tesla website. Under the new tax, that will jump to HK$926,000, he said.
"It's a dumb decision, a really crazy decision," Webb-Johnson said. "It's going to have a massive effect on the market."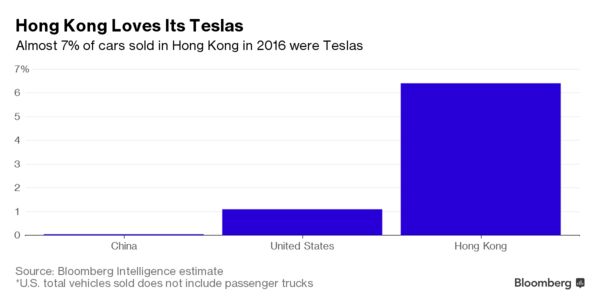 Palo Alto, California-based Tesla contends the imposition of the levy — known as the first registration tax — is a mistake. There are more than 8,000 electric vehicles of all brands in the city, according to the Environmental Protection Department, compared with less than 100 in 2010.
"Almost all our new owners are replacing a particularly high-polluting fossil fuel vehicle," the company said in an email. "This new policy threatens to move Hong Kong backwards."
That uncertainty may prompt Tesla to boost its push into mainland China. While revenue there last year tripled to more than $1 billion, its cars make up just 4.3 percent of China's electric-vehicle market, according to Steve Man, a Hong Kong-based analyst with Bloomberg Intelligence.
Tesla's bottom line received a jolt this month when Tencent Holdings Ltd., China's biggest Internet company, bought a 5 percent stake for $1.8 billion. Teaming up with the owner of the ubiquitous WeChat and QQ messaging services could help the automaker gain traction in a market where more than 200 companies have announced plans to build new-energy vehicles.
Warren Buffett-backed BYD Co. is the nation's biggest electric-vehicle brand, selling more than 102,000 units last year, according to Bloomberg New Energy Finance.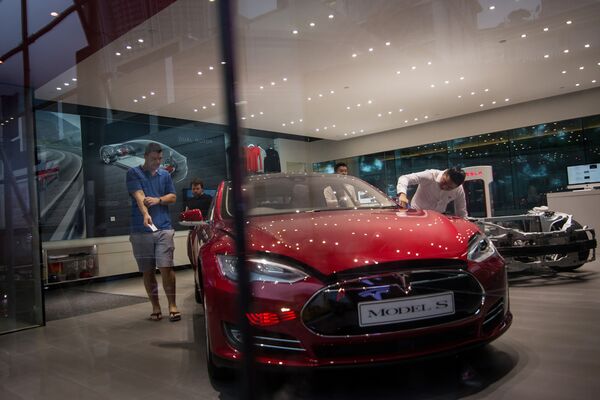 Even with the subsidy lapse, Hong Kong's government said it isn't withdrawing support of electric vehicles. The city will waive taxes on the first HK$97,500 of the car's price and completely exempt commercial vehicles such as electric buses.
EV owners also get a break on their annual registration fee. The owner of a Tesla Model S 90D only pays about HK$1,000, compared with HK$7,664 for the owner of a MercedesE400, according to Bloomberg Intelligence.
"Electric private cars can still be attractive," Under Secretary for the Environment Christine Loh said in an email.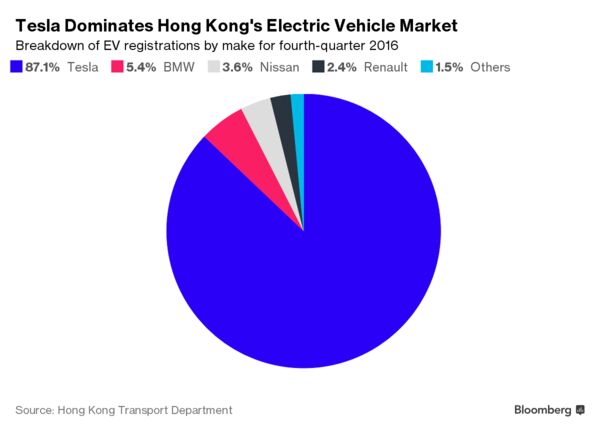 Even among environmental advocacy groups, the policy switch has support. Local think tank Civic Exchange said the government shouldn't be offering tax breaks on car sales at a time when the city's roads are getting more congested.
Raising the registration tax on electric vehicles should be one step, chairman Evan Auyang said. The next one should be an increase in the levy on conventional cars to maintain a price gap with alternatives.
"It's not a wrong policy, it's just not complete yet," Auyang said. "If you are going to buy a private car, you should buy electric."
Some local companies are offering their own incentives as well. Utilities CLP Holdings Ltd. and HK Electric Investments & HK Electric Investments Ltd., which is controlled by Li Ka-shing, offer free fill-ups at their charging stations.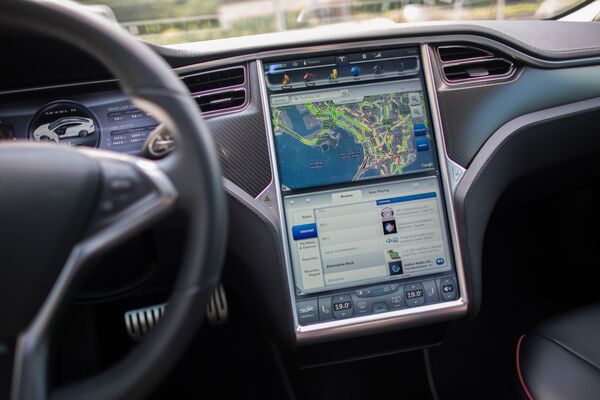 "Hong Kong is a small, compact city where distance is not a concern," the company said in an email. "The city is perfectly suited for EVs."
Samuel Wu, executive director of Majestic Elite Property Development Ltd., is banking on the continued popularity of electric vehicles. Majestic's new Altamira apartment building in the Mid-Levels district has charging connections in each of its 38 parking spaces.
Wu bought his first Tesla in 2014 and another the following year. The tax break was a major factor, but there were other incentives — such as not paying for gasoline, he said. Hong Kong has the world's most-expensive gas prices at an average $7.24 a gallon, according to GlobalPetrolPrices.com.
Tesla will start producing its Model 3, priced in the U.S. at about $35,000, in July, and Wu said the more-affordable car should boost demand in Hong Kong.
"The tax impact will be much lower than the Model S," he said. "There will be a pickup."
Fuente: Bloomberg