Right Now Is the Time to Buy Your Dream Car
---
Some of the sexiest machines are stacking up at dealerships. Get your cash on the hood while you can.

As spring spreads across the Northern Hemisphere, an intoxicating scent is thickening on the outskirts of American cities. It's that new-car smell.
Auto sales are slowing, assembly lines are still humming, and cars and trucks are stacking up at dealerships. The average vehicle bought in February had been on the lot for 74 days, some 40 percent longer than a similar sale five years earlier. These are ominous conditions for companies that make cars but sanguine metrics for those who drive them. "Honestly, it's a fairly great time to buy a car," said Langley Steinert, chief executive of CarGurus, an online marketplace that garners 23 million unique visitors a month.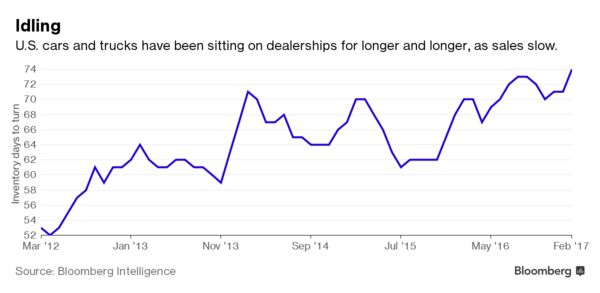 Deep down, auto executives are so-called car people, and car people tend to be optimists when it comes to throwing money at machines. Like their best customers, they are prone to decisions that aren't always entirely rational when it comes to investing in something like a swanky station wagon or a super sized sedan that drives like a race car. They also don't like putting people out of work, particularly when it could draw a Twitter tirade from the White House. In short, when the road gets bumpy, automakers are often slow to put the brakes on production.
Emboldened by a strong holiday season at dealerships, factories kept cranking out machines at a brisk pace early this year just as sales started going sideways. By the end of February, 4.1 million vehicles were sitting around on U.S. lots—7.9 percent more than the year before, according to Bloomberg data. The industry desperately needed some March madness. It failed to materialize.
U.S. car sales fell far short of estimates last month with an annualized pace of 16.6 million vehicles, a sickening slowdown for the assembly-line workers who churned out the record 17.6 million vehicles sold last year.
To make matters worse, used-car prices are plummeting as a wave of vehicles leased three years ago rolls back on the market. Meanwhile, the number of cars heading to the junkyard has declined, according to a report by Deutsche Bank AG. "This has led us to question whether the U.S. is broadly oversupplied," the analysts wrote Tuesday.
In short, dealers just lost a good slug of their pricing power. Car prices typically climb about 5 percent from their nadir around Christmas, hitting a peak in late May. This year, however, that's not happening, according to Steinert at CarGurus. Manufacturers and dealers, meanwhile, have turned to increasingly lavish incentives to lure buyers. So-called cash on the hood in March was 13 percent higher than a year earlier, an extra $415 per vehicle, according to researcher ALG.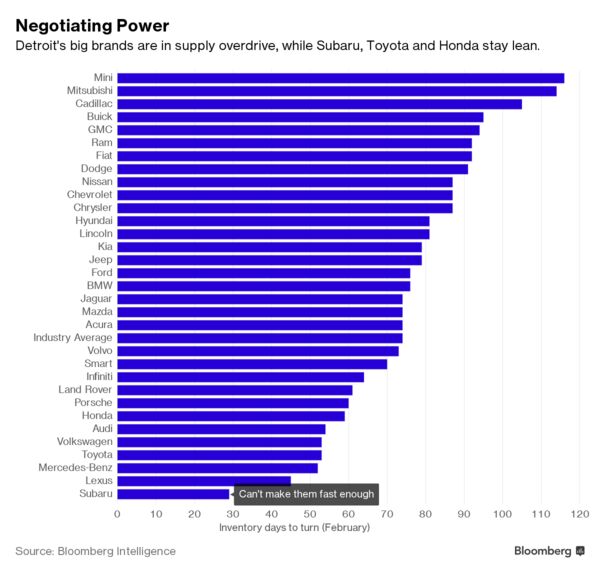 Some brands have stayed leaner than others. Good luck finding a deal on a Mercedes GLE or a Subaru Impreza, for example. Those have been zipping off of lots after only a couple of weeks. Sports cars, sedan and convertible coupes, however, are idling. Buyers who have long yearned for a Cadillac CTS, a Jaguar XF, or even a Chevrolet Corvette may find they have outsize sway at dealerships at the moment.
Source: Bloomberg