The New Dodge Challenger Is Fine, But the Classic Still Reigns as King
---
The just-introduced Dodge Challenger Demon has some new tricks up its sleeve, but models from the early 1970s are a better investment.
The Fate of the Furious just set a $532-million box office record. It was the biggest worldwide launch of all time.Credit Vin Diesel and Charlize Theron, of course.
But the cars in the film deserve glory, too. Especially that 840-horsepower Dodge Challenger SRT Demon.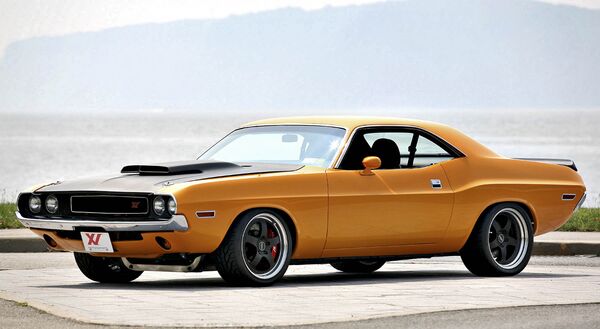 It's the latest, fire-breathing installment in Dodge's 47-year-old Challenger line, an impressive performer with a zero-to-60 mph sprint time of 2.3 seconds. But the Challengers from the 1970s have more style. If fact, the 1970-74 Dodge Challengers are more popular, as measured by searches and queries on Hagerty.com, than any other classic muscle cars to date.
Dodge's Muscle-Car Challenger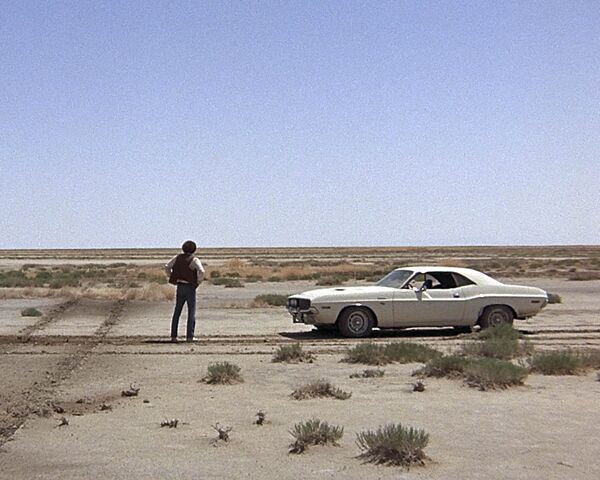 This story is about the Challengers that Dodge made from 1970 to 1974—they're the coolest and most valuable. But there was a "Challenger" before that, called the Dodge Silver Challenger, made in 1958. That one lasted for a little more than a year, and it was largely a "spring special" meant to boost sales on a different line, said Brandt Rosenbusch, the manager of historical services for FCA North America.
Then, as Ford and General Motors experienced wild success with the Mustang and Camaro, respectively, Dodge developed the Challenger that we know today. It came in six engine variants—from an inline-six to a huge Hemi—and sold 83,000 units in the first year, at a starting price of $2,953 for the hardtop to $3,500 for the R/T convertible. (This was comparable to the prices of other muscle cars during the era.)
People loved them because they had the same American-strong engines of the Dodge Charger and the Dodge Coronet but were 500 pounds lighter. That equaled speed, which meant drag-racing dominance.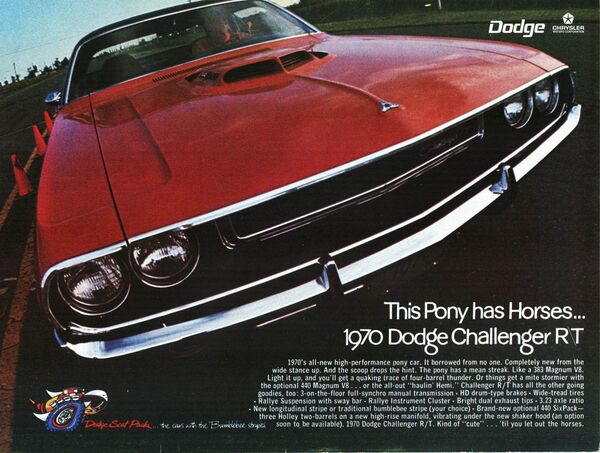 "It was very much a performance vehicle," Rosenbusch said.
The two-door coupe came in hardtop and convertible forms; a Special Edition sports hardtop and performance-tuned "R/T" package were also available, among other variants. Standard for the early R/Ts was the 383 Magnum V8 engine, at 335 hp, with tuning options that reached 425 hp. The most coveted Challenger version was the 1970 Hemi R/T convertible. Only nine of those were built.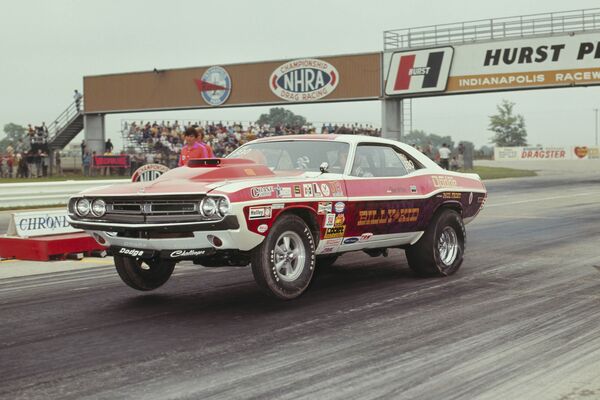 Since then, Challengers have appeared in pop culture (Gone in 60 Seconds; Curren$ymusic videos) and on racing podiums alike. Baby boomers are the biggest fans (52 percent of queries on Hagerty come from this group), though the cars continue to command interest across all generations. This is especially notable as Generation Xers and millennials continue their generalized obsession with "modern classics"—cars from the 1980s and 1990s. It proves that Challengers have the rise-above x-factor only the truest classics possess.
They Hold Their Value
They also make good investments, on a par with other muscle cars of the era, such as Mustangs and Camaros.
In the past five years, the median value of all Challengers from the 1970-74 era has risen 28 percent, according to Hagerty data. In the past year alone, that value has risen a modest but respectable 4 percent, to $34,700.
Of course, there are crazy outliers. The average value of the rare 1970 Challenger R/T Hemi Convertible is $931,000, and the average value of a 1970 Challenger T/A Hardtop is $93,800. But standard examples will gain a few percentage points of value each year, Klinger said, with a couple of the more powerful variants seeing bigger jumps.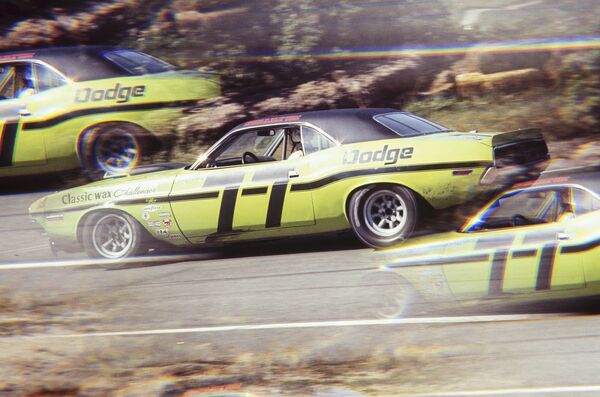 One note: The Challengers from 1970-71 are considerably more desirable than the others, thanks to a redesign in 1972 and then-new emission restrictions that affected engine performance. The median value for a 1970-71 car is 41 percent higher than the 1972-74 cars. 
A Wide Variety of Options
Average prices skew depending on the condition of the car, its production run, the number of miles it has, and its selling platform. As always, it helps if the car has a good story—or scandal—behind it, too.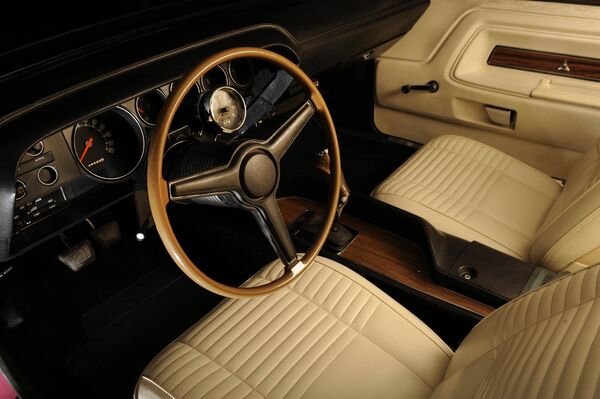 The world-record price paid for any 1970-74 Dodge Challenger was for a 1970 Dodge Challenger R/T Hemi Convertible that fetched $1,815,000 at a Mecum auction in Kissimmee, Fla., in 2016. (The model was one of nine in the world.) For a 1970-74 Challenger hardtop, the record is $691,200 for a 1971 version that sold at the same auction a year earlier. (It was one of 70 and owned by the same man for more than four decades, though he drove it fewer than 2,000 miles.)
You, on the other hand, can get away with paying far less. Think $30,000 or so for a decent example of the type. Mecum is selling several at its May auction in Indiana. Or try Hemmings, which lists a perky yellow '73 Challenger for $122,000 and a sporty '71 Challenger convertible for $68,000.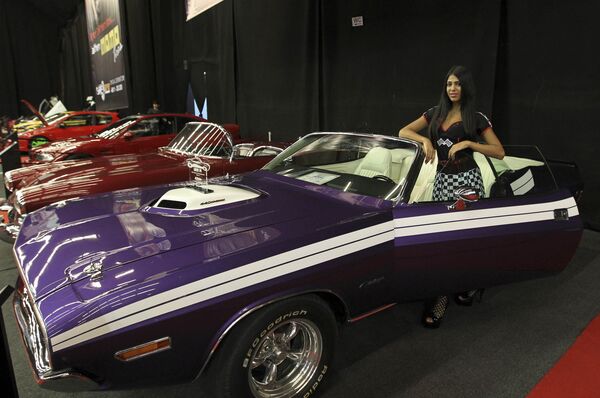 What to Look For
Prices vary because the cars themselves vary. The presence of a "shaker" hood (the air intake mounted directly over the car's engine) can increase the price of a car 20 percent; a four-speed transmission will raise it 15 percent. The exterior color of the paint can make a significant difference in value and salability, too.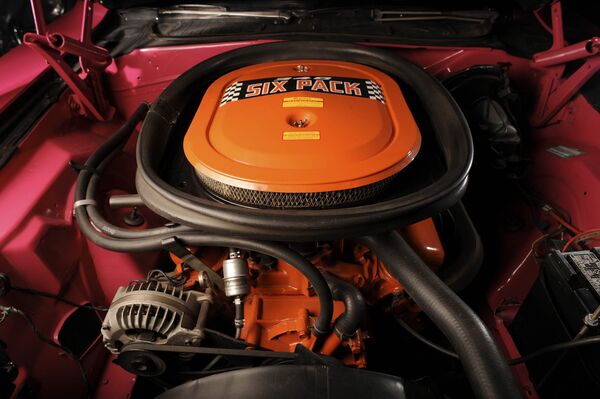 If your goal is strict investment over the long term, choose a specimen that has the best engine and transmission combination you can afford. The Hemi engine with the manual transmission in convertible form is the best example of this.
Conversely, if you want an example that is more affordable and drivable on a daily basis, choose a simple variant with the small-block engine and a clean maintenance record.
"The good thing about those from an enthusiast standpoint is that you can buy a car and have some fun, and you won't lose anything," Klinger said. "What you gain in value offsets what it costs to own it."
In general, look for versions that have low miles, good maintenance and repair documentation, and matching VIN numbers. Most crucially, go against your natural instinct. In this case, as opposed to, say, with humans, the condition of the body is more important than what's inside.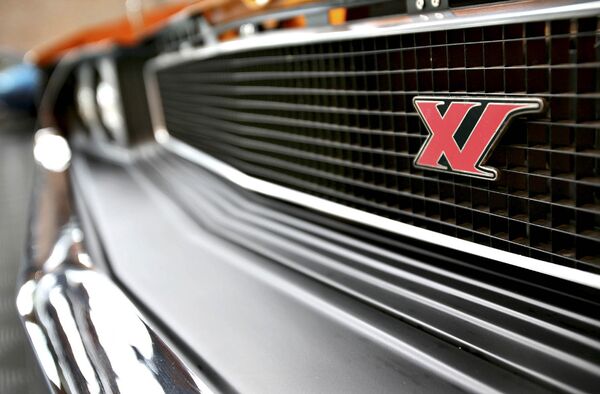 "Always pay more for an example that has the better body and metal work vs. mechanical soundness," Klinger said. "I'd much rather purchase a car with a near flawless body, but the engine needs to be completely rebuilt."
The reason is that mechanical components on Challengers are simple relative to their bodywork: You can buy most mechanical parts needed to repair a Challenger at any car-parts store, but you'll spend a lot of money fixing the cosmetics. Especially if the car survived harsh winters—rust caused by the road salts can spell death for metal machines such as these. It eats them from the outside in.
Don't get too caught up in the Fast and Furious hype, though. Yes, the new film will spur excitement about the original Challengers—much as Gone in 60 Seconds did for the Eleanor Mustang. That happens any time a movie like this comes out, but it passes.
But ask anyone who has been around collectable and high-value cars for long, and they'll tell you to forget buying an empty investment. Buy something that makes you happy.
"The Challengers are inexpensive fun," Klinger said. "You should always just buy what you want to drive."
Source: Bloomberg