Autonomous tractors, Aston Martin's £2m hypercar
---
From electric retro-bikes to automated tractors, personal transport is moving on. WIRED takes a look at what's coming down the road.
Cars
Mercedes' Generation EQ concept car
Built to take on Tesla and BMW's i range, EQ will be a new sub-brand of "electrical intelligence". According to CEO Dieter Zetsche, the SUV concept will be on sale within three years and Mercedes will offer ten fully electric models by 2025. The concept's proportions are relatively conventional, but it has what it calls a new "electro-aesthetic" that will feature on future models.
Beneath its tiny canopy, driver and passenger sit in a MonoCell carbon-fibre tub with knees and feet high, just as one would in a Formula 1 car. Nestled behind is a 6.5-litre V12 engine developed by indie specialist Cosworth; Ricardo, meanwhile, is engineering a bespoke seven-speed gearbox.
The hybrid system is inspired by the energy-recovery systems used in Formula 1, with energy harvested under braking feeding Li-ion batteries.
The Excellence's luxury theme is continued by way of a built-in refrigerator, two folding tables and cup-holders that can heat or cool your beverage of choice. Meanwhile, the hand-crafted crystal glasses in the rear come from Orrefors, the renowned Swedish glassmaker that's also responsible for the vehicle's crystal gearstick. Yes – it has a crystal gearstick. The audio system comes courtesy of Bowers & Wilkins, which is enhanced in the Excellence by the introduction of extra sound insulation.
The car is powered by Volvo's T8 Twin Engine plug-in hybrid system which combines a 1,969cc turbo petrol engine with an electric motor to offer up to 410PS. This has three modes: Pure (EV only up to 50km); Hybrid; and Power, where the motor and engine work in unison to optimise performance. From $104,900
The car's suspension system will be active to cope with the huge downforce levels at high speed (a passive system would require springs so stiff the ride would be unbearable at low speed).
Just 150 road cars will be built, plus 25 track versions, each priced from £2 million. They'll go into production in 2019. And yes, they're already all sold.
Honda's NSX Hybrid supercar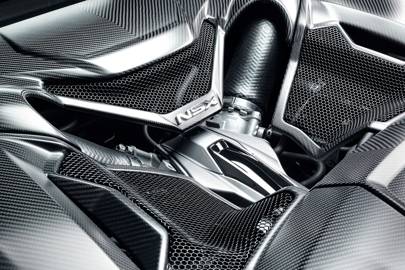 Honda has always been fond of a good acronym – so say hello to SH-AWD (Sport Hybrid Super Handling All-Wheel Drive), the power unit of its NSX supercar that controls interplay between the engine, gearbox and electric motors. Mounted behind the cockpit is a 3,493cc twin-turbo V6 petrol engine with a 75° V-angle to help keep the centre of gravity low. This is supplemented by a 35kW direct-drive motor positioned between the engine and the nine-speed dual clutch gearbox. It acts directly on the engine's crankshaft and provides instantaneous torque to boost acceleration.
At the front of the NSX is Honda's twin motor unit, where two 27.2kW electric motors drive each of the front wheels, providing de facto all-wheel drive. Together, these systems achieve an output of 427kW and 646Nm of torque. The front motor's role, though, is about 
more than straight line performance. By applying positive or negative torque to each wheel as required, it can create a yaw moment, improving the car's agility. From £143,020
The Volvo XC90 Excellence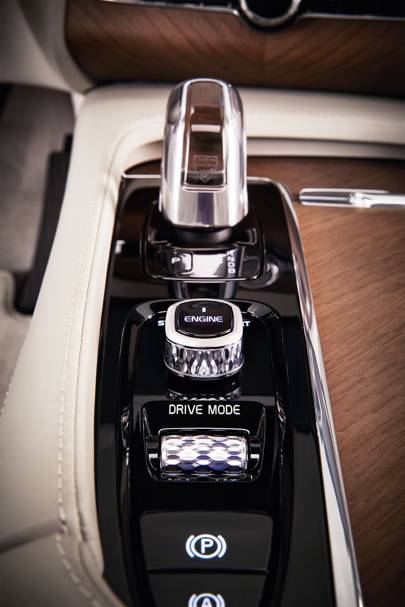 Volvo is determined to become Sweden's answer to BMW, Mercedes and Audi, and the launch of the XC90 Excellence SUV is another step in that journey. Billed as the most luxurious car in the company's history, it's a showcase for Swedish craftsmanship and technology. The three-seater rear bench of the standard model has been replaced with two individual seats which are heated, ventilated and electrically adjustable via a touchscreen controller. They even feature a massage function (no word yet if it's Swedish).

Tractors
The Case autonomous tractor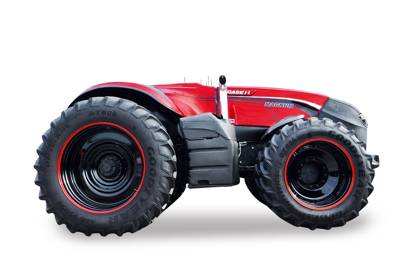 President Trump won't like it, but Case could be about to take the labour out of farming. Its autonomous tractor concept is, says the company, "in the pursuit of high-efficiency farming".
The cabless autonomous concept is based on an existing Case IH Magnum tractor but with tweaked styling. The vehicle uses radar, LiDAR (light imaging, detection and ranging) and on-board video cameras to optimise its course. It automatically accounts for the width of accessories and plots the most efficient path according to the terrain, physical obstructions and other machines in the field.