Donald Trump Misses Driving. So Would You If You Owned His Cars
---
A look back at the cars the U.S. president used to enjoy from behind the wheel.
In a Reuters interview on Saturday, the 45th president of the U.S. told reporters, "I like to drive. I can't drive anymore."
This won't change soon. Trump is only 100 days in, after all, and President Obama stillhasn't driven a car since leaving office in January. (Even former First Lady Hillary Clinton hasn't driven since 1996.) Instead, Trump rides around in a Cadillac limousine nicknamed "The Beast."
White House representatives did not respond to requests for comment for this story, but when the leader of the free world says he misses the road, you know he must have had some great things to drive. So we did a little digging, and yep, he has owned some truly special cars in the past. Here's what we know about Trump's toys.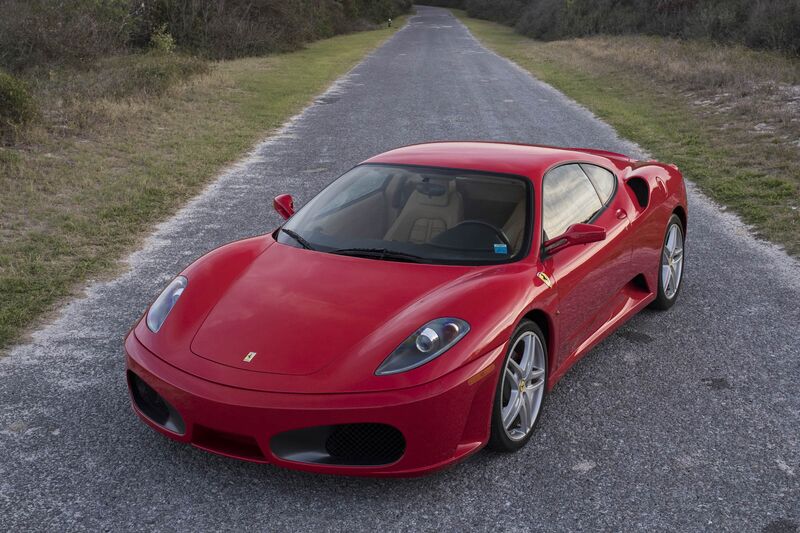 A 2007 Ferrari F430 F1 Coupe
This is the red-hot car that didn't meet its reserve price at an Auctions America sale in Florida earlier this year. Hours after it missed the sale, the auction confirmed that the car exchanged hands after it left the podium for a final price of $270,000. (Initial estimates had the car going for a low estimate of $250,000.) Although the best (and nonautomatic transmission) Ferrari F430s sell for more, Trump's did set a record for the most a Ferrari F430 Coupe with an automatic transmission has ever taken at auction, according to Hagerty.
The V8 car is special because Trump purchased it new in 2007 and owned it for four years, adding only 2,400 miles, for total mileage of less than 6,000 miles. Plus, its 490-horsepower engine has a top speed of nearly 200 mph and is certainly the only supercar to have been owned by a sitting president. Ferrari produced four versions of the F430, including the Berlinetta, a convertible version, a 430 Scuderia, and a Scuderia Spider 16M. Final production numbers of the line were never released.
A 1988 Cadillac Trump Golden Series Limousine 
Trump's Cadillac limousine fetched $68,261 at Bonhams earlier this year in England. The total was four to seven times the average value of an American limo from the same era, according to Hagerty's Jonathan Klinger, which is typical for a presidential vehicle.
The limo came about like this: In the mid-80s, Cadillac agreed to make Trump a series of special limousines. It planned two prototypes: a Trump Executive Series and this Trump Golden Series, both built by Dillinger Coach Works. The Trump Cadillacs made their debut in Las Vegas in January 1987, and in January 1988, Cadillac and Dillinger presented the Golden Series car to Trump at the Limousine & Chauffeur Show in Atlantic City. But the actual planned-for series? Besides the one Trump received, it never materialized.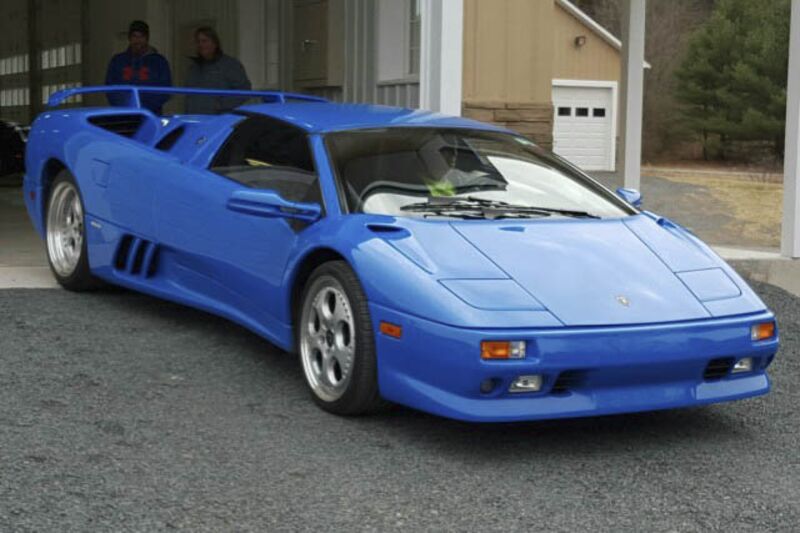 A 1997 Lamborghini Diablo VT Roadster 
This V12, 529-horsepower roadster went for $460,000 in September last year on EBay. That was 75 percent higher than today's current average price for Diablos, according to Hagerty, likely bolstered by the uniqueness of the car and its owner.
The model, which was made from 1990 to 2001, is special because it was the first Lamborghini that could reach speeds above 200 mph. Trump's "Le Mans Blue" Diablo roadster came with an electronic carbon fiber top with a manual transmission, special unique badging, and fewer than 15,000 miles. The model was produced in extremely limited numbers: The final production run included 30 cars for the 2000 model year, with the final model available in just two colors: titanium metallic and yellow. Only 10 of those made it to the U.S.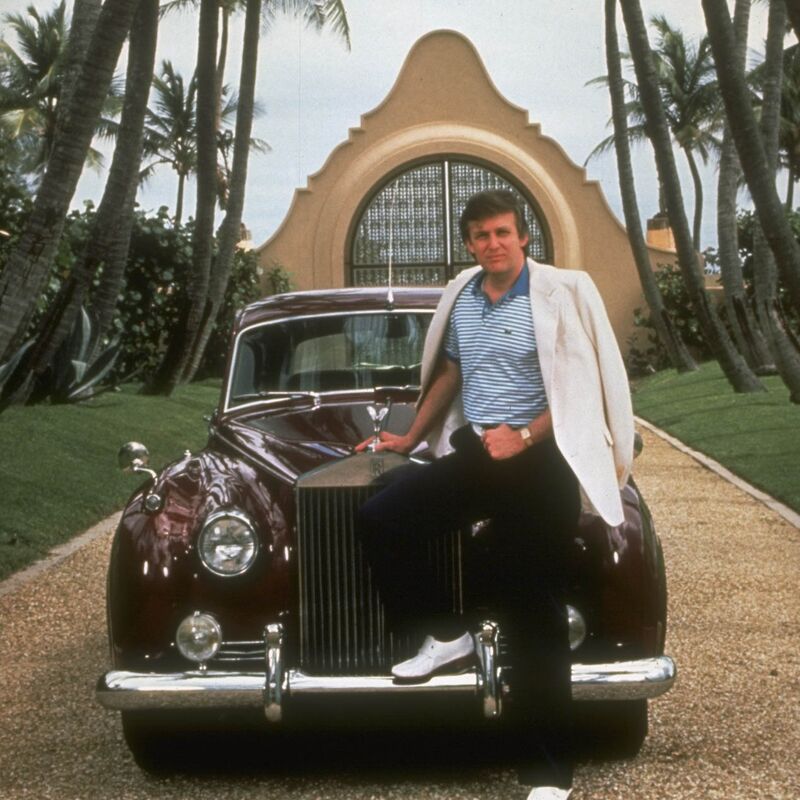 A 1956 Rolls-Royce Silver Cloud
The Silver Cloud was one of the early major vintage cars young Trump purchased. Photos of him with it, perched proudly on it in front of a palm-lined drive, are all overthe internet.
The highly collectible V8 Silver Cloud was the signature car Rolls-Royce made from 1955 to 1966—it was the car in the production chronology between the Silver Dawn and the Silver Shadow. The car had a four-speed automatic transmission and a top speed of more than 100 mph, which at the time was top notch, especially for six cylinders. RM Sotheby's sold a droptop version of one for more than $1.3 million at its Amelia Island auction in March, though a coupe took far less—$264,000—in 2015.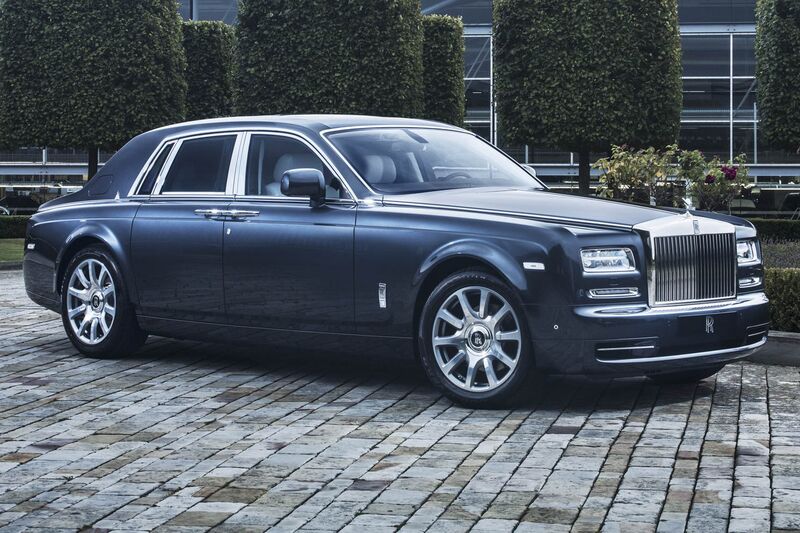 A 2015 Rolls-Royce Phantom
This was one of the last cars Trump got to drive regularly before assuming presidential office. The $500,000 sedan is currently Rolls's biggest ride, with a massive V12, 453-horsepower engine and a butter-smooth, six-speed transmission.
Virtually all of the cars are heavily bespoked on purchase, and Trump's black one was likely no different. The standard models offer seating for four or five, with thick lambswool carpeting, a cocoon-quiet cabin, and umbrellas inserted in the heavy, standard-issue, wood-paneled doors.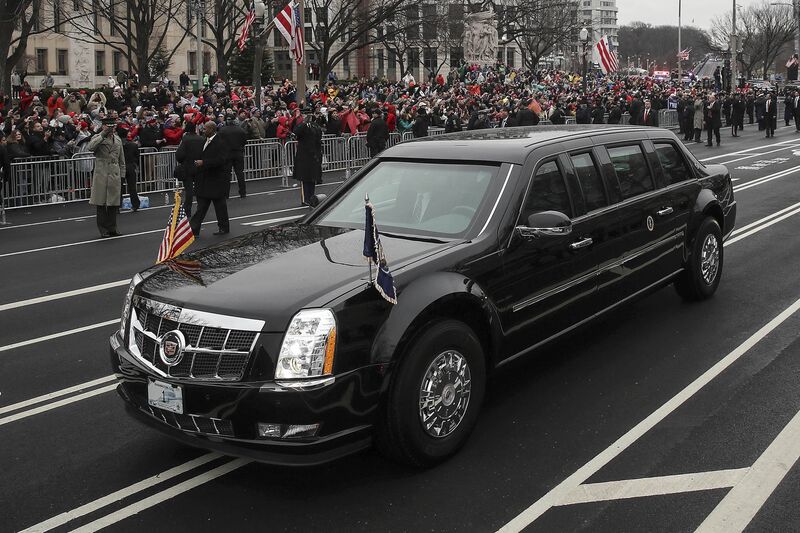 A Modern Cadillac Limo "The Beast"
Plenty has been said about President Trump's current official vehicle, nicknamed "The Beast" and made by Cadillac, but it's worth mentioning here. (The automaker declined to give an official response about the car for this story, though its development of the car has been widely reported.) Trump has been known to admire the state-of-the-art technology in Air Force one, or the phone system in the White House, and there's much to like with this car—even from the back seat. The $1.5 million limo is among the most-secure vehicles in the world, with eight-inch-thick doors, five layers of glass over the windshield, and military-grade armored bodywork throughout. It belongs to a fleet of 12 similar cars.
Orange County Chopper
Well, this isn't a car, is it? But it's a famous Trump vehicle nonetheless. Trump commissioned this bike from Orange County Choppers as part of their Discovery Channel show American Chopper: Senior vs. Junior.
The bike is replete with 24-karat gold custom parts and is branded along the bottom with Trump's name. There's no evidence Trump has actually ridden this bike—wiser minds would think otherwise—but it is undoubtedly something worth bragging about.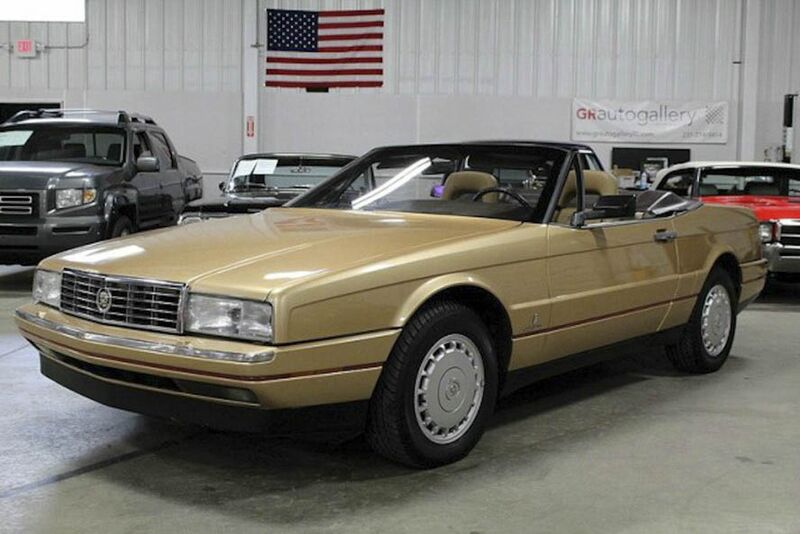 Maybe: A 1993 Cadillac Allanté
Cadillac hasn't exactly disavowed the story Trump told in his book, The Art of the Deal, about the company sending him a "a beautiful gold Cadillac Allanté as a gift," but it hasn't really confirmed it, either. Anyway, if the Donald did get this car, there's no doubt he enjoyed it. The Allantés from the early 1990s had big, 4-liter 295-horsepower V8 engines, four-speed transmissions, and a zero-to-60 sprint time of 6.4 seconds. Plus, they were technologically advanced for the time, with LCD instrument clusters on the dashboard, premium sound, and a removable aluminum hardtop. Fewer than 5,000 were made that year. Again, Cadillac neither confirmed nor denied this exchange.
This 617-horsepower coupe was the subject of one of those photos not usually taken of persons who go on to become president: an April 2006 Vogue spread that propped a pregnant, near-naked Melania Trump in stiletto heels on the stairs of Trump's plane, while Trump sits fully clothed, grinning in the McLaren with his back turned to her. The effect is that of a landowner displaying his finest property. (Though the former model Melania may have been comfortably on-board with the look.)
The car itself is impressive: Made by a partnership of Mercedes with McLaren from 2003 to 2010, its supercharged V8 engine could push it to 60 mph in 3.3 seconds, with a top speed near 220 mph. Total production was limited to fewer than 3,500 units.
Fuente: Bloomberg