BMW Plots $110,000 Coupe to Counter Mercedes High-End Blitz
---
New 8-Series model due 2018 kicks off top-luxury rollout

Krueger under pressure to finance shift to electric robocars

BMW AG is plotting the revival of a high-end coupe to claw back market share lost to arch-rival Mercedes, part of a model blitz that BMW is billing as the biggest in its history.
The sporty 8-Series two-door car is set to hit dealerships next year and will compete with Mercedes-Benz's S-Class coupe that's priced at around 100,000 euros ($110,000). BMW's version is the first in an 8-Series rollout that's key to its strategy of selling more expensive autos, said Chief Executive Officer Harald Krueger.
"We're switching to attack mode," Krueger told shareholders at the annual meeting in Munich. "The 8 Series coupe will underpin our claim to leadership in the luxury segment."
Krueger, under pressure to finance a costly shift to electric robocars and show progress after two years at the helm, has sharpened his rhetoric after BMW lost its crown as the world's leading luxury-car maker to the Daimler AG marque last year. After failing to generate excitement with a conservative revamp of the bread-and-butter 5-Series, the CEO in March announced a barrage of new models. These include larger cars, more sport utility vehicles, and flashier remakes of existing classics.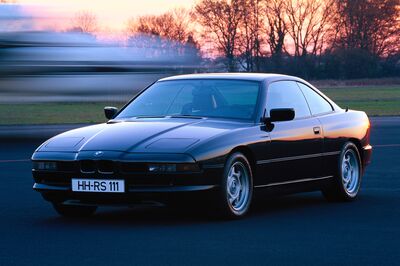 Shareholders at the annual meeting voiced their concerns.
"BMW used to be in attack mode, and now they look rather meek," said Daniela Bergdolt, vice chair of German shareholder protection association DSW. "I'd like to see a more dynamic management with more focus on developing future technologies so that the Googles of this world don't get the better of them."
Like other carmakers, the Munich-based manufacturer is fighting to boost profitability to cover climbing investments as the industry shifts to new forms of driving and draws newcomers such as Tesla Inc. and Alphabet Inc.'s Waymo.
Eighties Styling
By reviving the 8-Series, Krueger is betting that high-end customers will warm to a model that BMW discontinued in the 1990s amid faltering sales. The CEO says the new version will help achieve his goal of "significantly" boosting sales and revenue in the top-end of the luxury segment by 2020.
BMW's 8-Series was conceived in 1989 as a grand tourer with a powerful V12 engine that ranked as the brand's top-of-the-range at the time. The 850, as it was known, had all the stylistic trappings of that era: a wedge shape, drop front lights and chunky rear lights.
The new version enters a crowded market. Mercedes already vies for wealthy drivers with coupe and cabriolet versions of the S-Class sedan and the ultra-luxury Maybach derivatives. Volkswagen AG recently revamped the four-door Porsche Panamera and Fiat Chrysler Automobiles NV offers the Maserati Quattroporte.
BMW, while posting record profits, is also lagging Mercedes on earnings growth. During the first quarter, BMW's auto earnings rose 6.1 percent as profit at Mercedes jumped 60 percent. And though Daimler is predicting "significant" growth for this year, BMW is forecasting a "slight" gain.
To defend against critics, BMW has promised a record number of new and refreshed auto models this year and next. The offensive includes all-new vehicles including the compact X2 SUV and full-size X7 for next year. The company has also unveiled more details about its self-driving battery-powered iNext due from 2021.

Source: Bloomberg