Ford Beats GM as Rental Fleet Sales Conceal U.S. Demand Slowdown
---
U.S. auto sales may have slowed a fifth straight month in May

Ford reports jump in fleet deliveries as retail demand slips

Ford Motor Co. rode increased deliveries to rental-car companies to a rare sales victory over General Motors Co. last month, as demand from American consumers continues to drop.
Sales of cars and light trucks rose 2.3 percent for Ford in May, edging GM by about 2,900 vehicles. Ford said bulk deliveries to fleet companies — which are usually discounted — jumped as purchases from retail customers slipped.
Automakers are struggling to entice investors with the argument they're well equipped to cope with the U.S. auto market reaching the end of an unprecedented seven-year growth run. Fears that the good times are over have fueled some of the pressure on chief executive officers at Ford, which ousted Mark Fields last month, and at GM, with Mary Barra facing another activist's push to boost returns.
"With inventory above historical levels and slowing demand, we believe there could be another round of production cut concerns," Joe Spak, an auto analyst with RBC, wrote in a report to clients.
Ford and Nissan Motor Co.'s U.S. sales gains in May beat analyst estimates, while GM trailed projections for a 4.3 percent increase. Nissan, which posted a 3 percent jump, doesn't break out its discounted bulk sales in its monthly statements but expanded fleet sales more than any other major carmaker last year.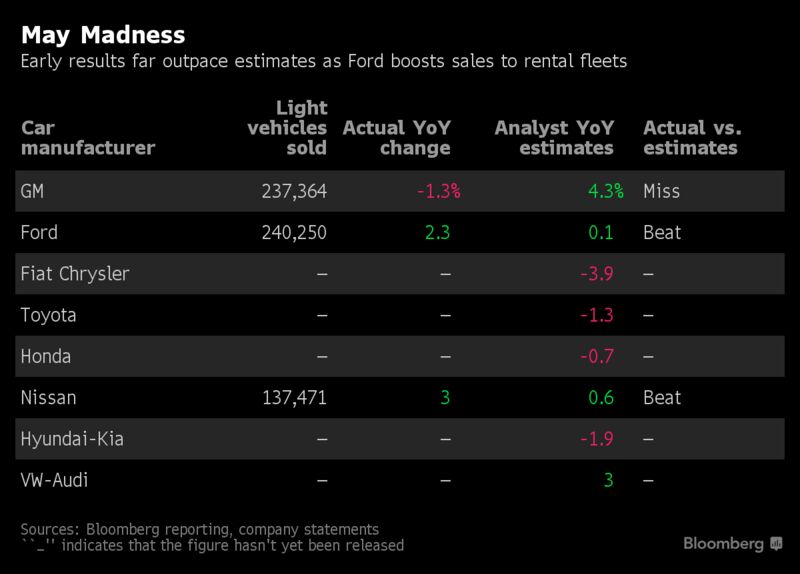 Analysts project the industrywide selling rate, adjusted for seasonal trends, may have slipped in May to about 16.8 million light vehicles, compared with 17.2 million a year ago. This would mark the third straight month of a sales pace short of 17 million, which last happened in 2014.
GM estimated an industry sales rate of 16.6 million for last month.
Ford shares this year dropped 8.3 percent and GM slipped 2.6 percent through the close Wednesday, trailing the benchmark S&P 500 Index's gain.
Fields, Barra
A deep slump in Ford's share price during Fields's tenure played a role in his exit last month, with the board picking turnaround specialist Jim Hackett as his replacement. Barra will confront David Einhorn next week, with investors voting on a proposal put forth by the billionaire's hedge fund Greenlight Capital to split GM stock into dividend and capital appreciation shares.
Fiat Chrysler Automobiles NV may report the biggest decline, at 3.9 percent. Ending production of the Dodge Dart and Chrysler 200 sedans has contributed to shrinking total sales for about a year. Chief Executive Officer Sergio Marchionne is retooling factories that used to produce cars to make more profitable Jeep sport utility vehicles and Ram pickups.
While a pace of more than 16 million is historically strong and plenty profitable, slower sales have saddled automakers with too much inventory and precipitated bigger discounts.
Steeper Discounts
Incentive spending reached a May record of $3,583 per vehicle on average during beginning of the month, according to J.D. Power. Despite all that deal-making, the average number of days a vehicle spends on dealers' lots has topped 70 for the first time since 2009, during the depths of the industry's crisis.
"Continued elevated incentives reflect the challenges of balancing record levels of inventory and are likely to remain elevated unless production is adjusted to meet consumer demand," said Deirdre Borrego, senior vice president of automotive data and analytics at J.D. Power.

Source: Bloomberg