Japan Already Offers Americans the Jobs Trump Promised to Bring Back
---
Donald Trump again attacked Japan over trade on Monday, saying during a visit to Tokyo that the nation's automakers should "try building your cars in the United States instead of shipping them over."
Japanese officials could have noted that they already do — employing tens of thousands of Americans — and that Japanese companies in the U.S. pay a great deal more than the average American worker earns.
In fact, Japanese companies also paid their 850,000 U.S. employees more than U.S.-based companies from any other Group of Seven nation except Germany, according to 2015 data from the U.S. Bureau of Economic Analysis.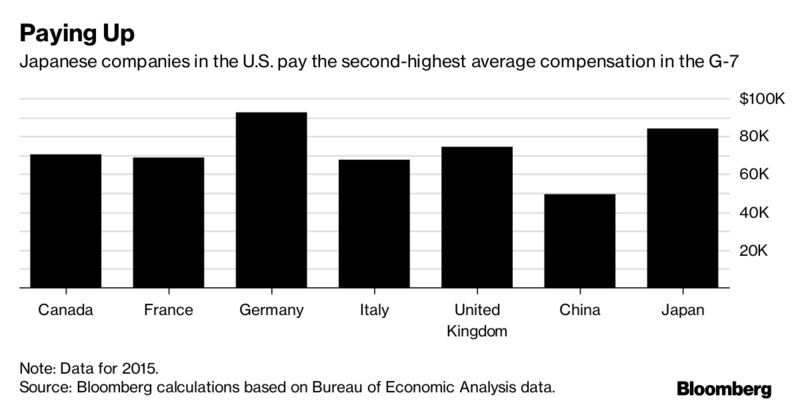 The Japanese firms pay well because they are focused on activities like manufacturing, Naoki Hattori, an economist at Mizuho Research Institute in New York, wrote in an email.
Japanese carmakers, for example, employ about 87,000 people, according to a 2016report from the Japan Automobile Manufacturers Association. Manufacturing and wholesale trade — another area in which Japanese companies are active — also pay higher wages than the U.S. average.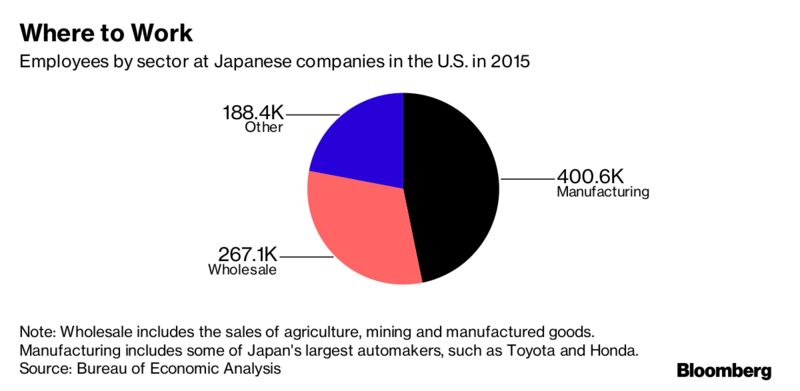 In 2015, Japanese companies' U.S. affiliates paid about $84,000 in average annual compensation, including insurance and other benefits, according to calculations based on data from the Bureau of Economic Analysis. In contrast, average annual compensation in the private sector in 2015 was about $64,000, according to data from the bureau.
While Japanese leaders have struggled for years to convince companies to offer more generous pay increases at home, a missing link in the Bank of Japan's quest to generate 2 percent inflation, Japanese firms in the U.S. are giving bigger raises in the U.S. In 2015, average compensation at U.S. affiliates grew 4.7 percent from a year earlier, according to the Bureau of Economic Analysis. That compared with 1.3 percent in Japan, according to data from Japan's National Tax Agency.
Fuente: Bloomberg