Opioid crisis arrives on industry's doorstep
---
Auto plants are being hit hard by addiction
It's a Sunday afternoon in July, and the Union City Ball Fields are teeming with picnickers enjoying softball, face painting, trout fishing and even a semipro wrestling match. George Washington — that's his real name — strolls through the crowd, shaking hands with people he recognizes from work at the General Motors truck plant or around town.
This is not a typical company picnic. It's the 23rd annual Soberfest, put on by UAW Local 598 to celebrate plant workers and family members who have overcome substance abuse and addiction, and to extend a hand to those fighting it now. Washington, a GM employee-assistance representative and former addict, has spent many years on the front lines of the problem.
From his point of view, the auto industry has a more serious drug crisis today than ever.
"It's not alcohol, it's not marijuana now. You're dealing with meth, you're dealing with the opioids, you're dealing with the heroin," says Washington, who started at GM in 1977. "It's starting to show up more and more at the automakers' doorsteps."
The Detroit 3, he says, are "going through a transition with all the buyouts and the changing of the guard, which means there is a lot of people retiring." As a result, "we're getting a work force now of a lot of younger people who are experiencing different drugs."
Automakers have programs to help workers with addictions and mental-health disorders, but the programs aren't necessarily equipped to handle the long recovery times that opioids require. And workers who fear for their job security are often reluctant to seek help, especially if they've lapsed more than once. Among the efforts to break the cycle of drug abuse is Soberfest, with the ballfields and picnic tables flanked by booths for community organizations such as Odyssey House, Serenity House and the Brighton Center for Recovery, where local native Eminem once checked himself in.
"This opioid addiction is one of the worst addictions I have ever seen," says Washington. "It's so tricky, it's so powerful. They'll go in, they'll get clean. But then when the bottom falls out, it's one of the most painful I've ever seen. They're suicidal, they feel they've let everybody down, they feel they've let themselves down. I think it's a lot more difficult to recover from."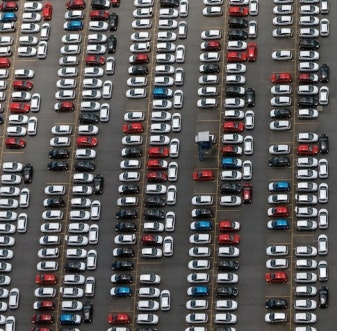 What is next for an industry entangled in changing geopolitical circumstances and faltering trade regimes?
Read more >
In the hot zone
Opioids are highly addictive pain relievers, ingested generally through prescription pills, though recreational forms — such as heroin — are injected. Even regular use of the drugs as prescribed can lead to dependence, according to the National Institute on Drug Abuse, and misuse can result in overdose and death.
Auto assembly jobs — physically demanding, with workers repeating motions and staying on their feet for long periods — create an environment in which opioid use can easily get out of hand.
"They're doing eight, 11 hours a day," says Kevin Bush, an employee support representative at Ford's Louisville Assembly Plant in Kentucky. "Assembly work is very boring, very tedious. That kind of work causes many aches and pains in their body. Maybe they have a pain and the doctor prescribes opioids. And over a period of time the use of that creates a high tolerance and an addiction. And one thing leads to another and it gets worse."
Misuse of the drugs and their deadly impact have spread across wide swaths of the country, including the industrial Midwest, Appalachian communities and rural areas from New Mexico to New Hampshire, along with pockets of major cities.
Drug overdoses are the leading cause of unintentional death for Americans under age 50. They killed 64,070 people in the U.S. last year — more than guns or car accidents — a 21 percent jump from 2015, the National Center for Health Statistics reports. Opioids are primarily behind the increase, with 15,446 deaths attributed to heroin, 14,427 to opioid pills and 20,145 from synthetic versions of heroin.
President Donald Trump declared the opioid crisis a public health emergency in October. An analysis released last week by the White House Council of Economic Advisers said the epidemic cost the U.S. economy $504 billion in 2015, six times more than estimated two years earlier, and that some 2.4 million Americans have an "opioid-use disorder."
The auto industry's manufacturing belt overlaps the hot zone, spreading southward from Michigan and clustered around highway corridors used by car carriers and drug couriers.
Plants responsible for more than 70 percent of the Detroit automakers' U.S. production are in states identified by the Centers for Disease Control and Prevention as having statistically significant increases in drug overdose deaths in 2015, the last year for which data are available. All six of Fiat Chrysler Automobiles' U.S. assembly plants, seven of Ford Motor Co.'s eight plants and eight of GM's 12 plants are in those states. So are three of the four largest auto plants in the country: Nissan's factory in Smyrna, Tenn.; Toyota's in Georgetown, Ky.; and Honda's in Marysville, Ohio.
On the factory floor
Inside those plants, each prescription written for pain pills on the company insurance plan is a chance for the crisis to spread.
"They're bringing the pills into the workplace," says Jodi Debbrecht Switalski, a former district court judge and prosecutor in Michigan who is now a consultant to employers on substance abuse. "Their tolerance quickly escalates. That's where accidents, mistakes, injuries, aberrant behaviors start to occur. As tolerances increase, they must use more or they're going to get very sick."
Switalski heads a group of lawyers at Lippitt O'Keefe Gornbein in suburban Detroit specializing in opioid and controlled-substance misuse. Her team works with doctors, dentists, hospitals, opioid misusers and their families to resolve legal issues related to drug addiction. The goal is to establish procedures for companies to educate workers to prevent opioid-related incidents in the workplace.
"A lot of these cases are handled through workers' compensation. But employee assistance programs, drug-free workplace programs, are just not enough," Switalski says. "They're not being implemented enough."
Switalski and her team go into auto plants and other workplaces to discuss the programs in place and explore ways to implement them more effectively.
Training employees about prescription drug abuse is the most underused preventive measure by U.S. companies, according to a National Safety Council survey. Unionized manufacturing employers feel more confident than other employers that they can handle substance abuse issues, the survey also said.
"If they have updated their policies, they tend to report they feel better prepared — if they have processes in place to identify addiction, to address substance abuse issues," says Tess Benham, a spokeswoman for the National Safety Council.
Many employer programs in the auto industry are designed around long-standing substance misuse problems such as alcohol and marijuana, and offer a month's paid leave and job protection for workers to complete treatment. But medical experts say recovery from opioid misuse takes longer.
GM, Ford and FCA officials declined to comment on how those companies address opioid misuse or its impact on their workers. American Honda didn't respond to inquiries from Automotive News.
A spokeswoman for Toyota Motor Corp. said the company has nothing "specific happening in response to this issue," adding that "Toyota conducts drug testing for all new team members and periodic testing as part of our normal ongoing process."
'It doesn't discriminate'
Out of the public eye, some automakers have taken steps to address the opioid crisis inside the factories. This year, Ford quietly rolled out an opioid awareness pilot campaign for several Ohio plants and is expanding the campaign across North America.
UAW Vice President Jimmy Settles and Bill Dirksen, Ford's vice president of labor affairs, spearheaded the project, aimed at educating plant workers about the crisis and the services to which they're entitled. The program was outlined in January in a UAW Ford Community Podcast.
"Sometimes it's not just a member. It's a salaried employee that will come to us and seek out help also," Jerry Carson, UAW-Ford International representative, said on the podcast. "This epidemic covers all demographics and socio-economics; it doesn't discriminate. It is a true epidemic that's affecting hourly and salary."
Ford's Ohio Assembly Plant outside Cleveland was the beta test site for the campaign before it rolled out to the company's engine and transmission plants elsewhere in the state.
The effort goes beyond Ford's obligations under its UAW contracts. Those contracts say Ford must have a certain number of employee support services representatives available to help workers with a job-impairing issue relating to alcohol or drug dependency. Ford also agreed to provide more early-intervention training of human-resources staffers to better prepare them to deal with opioid use in the factory. That training launched in June.
Bush, the Louisville Assembly support representative, is one of three at his plant — one per shift. His responsibilities, according to the UAW-Ford contract, include deciphering the symptoms of substance abuse, referring employees to health care providers and following up on their treatment programs.
"We've got several resources here, but the 30-day programs are really not long for the heroin use," Bush says. "The heroin addiction's got deep feeds, and it takes a lot longer time to get over that than it does alcohol or any other drug."
Bush, whose plant builds the Ford Escape and Lincoln MKC compact crossovers, says increasing numbers of employees are seeking his services. He also sees many who get treatment wind up in a vicious cycle that's hard to break free of because returning to work — where their addiction began — can trigger relapses.
"A person goes to rehab, and they give them tools to put in their toolbox to combat this addiction," he says. "When they come out and have to return to work, they return back to the same environment that put them in the program, so to speak."
'They're afraid'
Steve Mitchell, director of clinic operations for Renew Recovery, an outpatient drug dependence recovery center with locations in Louisville, Georgetown and London, Ky., says his clinic has had a rising caseload from Ford's two big Louisville plants.
"You've got so many people in a centralized location. They make good money but they also deal with some labor issues like repetitive work, demanding work hours, high expectations, family stressors and they have weird hours," Mitchell says. "They have constant turmoil and a lot of temptations."
Renew Recovery often works directly with support-services representatives such as Bush at the Ford plant as well as other HR staffers at nearby factories.
"At this point, with the epidemic exploding, it's very important that these offices have this information handy to share with employees," Mitchell says. "There's a lot of people dealing with this on a daily basis that really don't have … an understanding that resources are available."
Or they're afraid to seek them out and put their jobs at risk.
"Companies can offer the information all they want, but people are afraid of people finding anything about their involvement with opioids," says Ashlee Emlaw, a 26-year-old former robotics software programmer in suburban Detroit who left the auto industry in 2015 while battling an addiction to heroin.
"That needs to be addressed if they want to do anything," says Emlaw, who is in recovery and working as a waitress in Ann Arbor, Mich. "Even letting one person in HR know, that's probably the biggest hurdle to get over — worrying about how other people are going to respond."
Last chance
At GM's Flint truck plant, Washington keeps an eye out for people who are misusing drugs but not getting help. He describes his job with the company's Work/Family Program — which is what GM's employee assistance program morphed into after expanding beyond substance abuse — as "assess and refer." But in a sense, his mission is to keep fellow plant workers from veering into the treacherous path he took as a young worker.
"I was in my 20s the first time I got in trouble at General Motors," recalls Washington. "Drinking and drugging, coming in all high and couldn't do my job and falling around. And I was forced to get help. That was in 1985. It was my first treatment. And it was because I was going to lose my job."
When he finally did get the boot, in 1996, he wasn't surprised. By then, Washington had been battling a long addiction to crack cocaine and was in and out of treatment for a decade, with GM footing the bill and no sign of improvement. Eventually, the cost of his repeated therapy was too much for the company.
With GM rejecting his pleas to return to work, Washington spent seven months in a halfway-house program and stayed sober. He had given up hope of returning to the line when GM approached him in 1999 about taking his job back through a probationary program he referred to as a last-chance contract.
"You come to work and they can just tap you, take you down to [test] you," Washington says. "You need to be attending meetings, you can't get into any kind of disciplinary action and it's 18 months — no ifs, ands or buts."
Washington stayed true to his word. He attended regular meetings at the plant, avoided pain pills even after dental surgery and stayed active in the employee assistance program. In 2015, he became a representative for Work/Family.
"That last-chance contract saved my life," says Washington, who works the Flint Assembly Plant's third shift, 11 p.m. to 7 a.m. "And I think that's what it actually had to take for me, is that the bottom had to fall out and I actually had to want to stop instead of just wanting to get out of a situation."
Washington says the stigma of seeking help remains a challenge at his plant, and he works hard to fight it.
"If you don't want anyone to know you're going," he says, "you can just tell them, 'I need to go to medical.' If [the boss] asks what you need to go to medical for, you just tell him it's personal."
But he knows it's up to people such as himself to stay vigilant.
"It's hard to bullshit me," Washington says. "I've been where you're at. That stuff you're doing, I've done it.
"I peel layers, and nine times out of 10, I can tell a person is in trouble way before he knows it himself, because of the fact I'm one of them," he says. "The only difference between me and you is I'm not getting high."
Fuente: Auto News